The next
Oliviabolivia Hyena Cart stocking
will be Tuesday, April 29, beginning at Noon EDT. There will be three carriers available for purchase. Only one OB MT per person per stocking, so pick your favorite and be logged in to Hyena Cart for the one you want. I am staggering this stocking with 10-minute increments.
If you don't already have an account at hc, you will need to register for one prior to purchasing. The cart is set up with a Buy Now option, which means the carrier goes to the first person who clicks to commit to purchase. I will only be accepting PayPal and you will have to pay immediately to reserve the carrier you select. Because these are instock Oliviabolivias, as soon as you buy the carrier, it will be packaged in a Priority Mail envelope and on its way to you the same day.
Willa, $160 SOLD
Amy Butler vintage peony floral print in cream, aqua and green on aqua baby cord. Decorative stitching on seams. Reverses to coordinating print. Hood reverses to aqua cord. Heart applique at the end of stone brushed canvas straps. Straps on this carrier are approximately 80" long.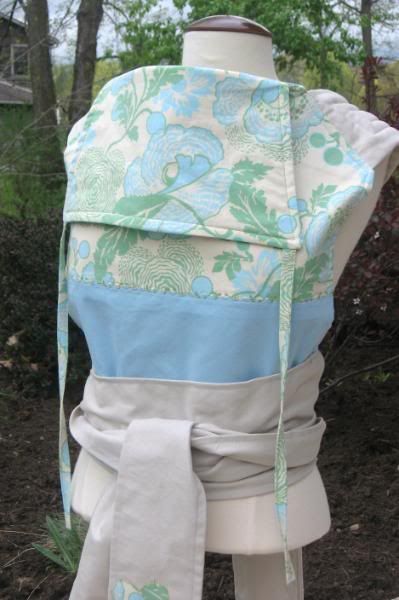 Evie, $160 SOLD
Robert Kaufman purple Mod Hearts pieced on chocolate baby cord. Hood features heart applique on cord. Heart appliques are also on hand-dyed plumberry brushed canvas. Hood and body reverse to canvas. Straps are approximately 80 inches long.
Marah, $160 SOLD
Brilliant floral print in oranges, yellows and pinks. Hood matches print when down, reverses to canvas. Body also reverses to canvas. Straps are hand-dyed tangerine brushed canvas and feature intricate floral applique. Straps are approximately 80 inches.